Greening Up
From fights to rights: making it the default to re-green our streets and squares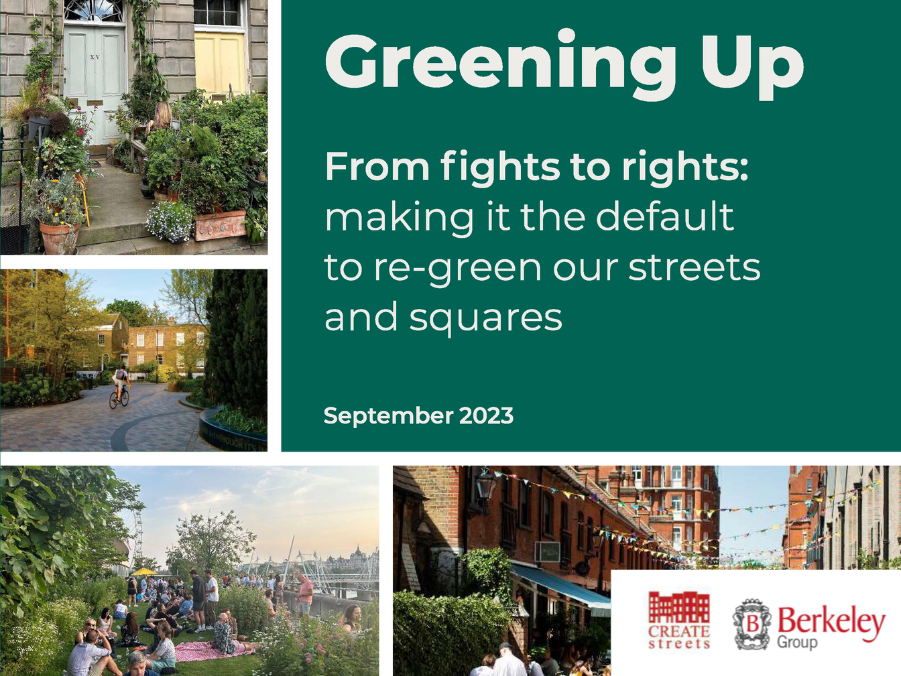 A report on how to make it the default to re-green our streets and squares
The Greening Up report, was published on the 26th September 2023 and is authored by the Create Streets team with insight from greening and development experts. It has been described as 'inspiring' and 'essential reading'. You can read it in its entirety here.
Download the 'Greening Up' report
The report highlights the importance of 'Greening Up' our urban areas and provides practical and policy recommendations for making it easier to do so.
This project would not have been possible without the generous support of the Berkeley Group.
If you would like to learn more about the Greening Up report please email eleanor@createstreets.com
Order a hard copy of Greening Up
Books are £22.00 including postage and packaging to the UK. Postage to other countries: please order and we will get in touch regarding the extra amount
THE LAUNCH
The launch event summarised the evidence on why it's the right thing to do, highlighted brilliant community work being done to re-green our streets and suggested local and national policy changes that would make it much easier to 'green up' our streets and squares.
A recording of the event will soon be available here.
Speakers:
Rob Perrins, Chief Executive Officer, Berkeley Group

Claire Holland, Leader Lambeth Council
Jon Burke, Decarbonisation Lead, Gloucester City Council, former Cabinet Member, Hackney
Carolyn Doyley, East Marsh United, Grimsby
Russell Horsey, Chartered Urban Forester, former tree officer (Bristol, Kensington & Chelsea)
Karen Liebreich, Chair, Abundance London
Nicholas Boys Smith, Founding Director, Create Streets

Eleanor Broad, Associate Director, Create Streets

Tom Noble, Senior Urban Designer, Create Streets