Create Streets' senior architectural designer, Robert Kwolek, describes a visit to Hampstead Garden Suburb and explains what we can learn from the North London early 20th century community, revolutionary in its time and with plenty of lessons for us today. You can read the full essay here.
You don't have to visit many new housing developments to know how disappointing most of them are: car dependent, lacking in greenery and slathered in tarmac, they're far from anything you'd want to walk to and definitely not attractive enough to want to walk through. The houses are cheaply built and either ugly or just bland. Things are getting a little better, slowly, but the exceptions are rare. We must do better to avoid the countryside and the edges of our towns and cities being filled with equally poor places to live and see.
An urban designer's initial desire may be to build quite dense, urban places. The problem is that both the planning system and market forces move at a sluggish pace so the slate of new towns is likely to still be quite suburban in nature.
It's crucial, therefore, that we build better suburbs, with mixed-use centres forming a real heart for communities. They must have amenities allowing daily errands to be accomplished by walking or cycling, places you can happily live in without using your car daily.
We've built places like this before, and not too long ago. British architects all but invented the concept of garden suburbs and garden towns in the late 19th century and into the 20th. They influenced similar movements in Europe, the US and many other countries. Recently, I visited Hampstead Garden Suburb properly for the first time to see if it deserved its reputation and came away with the impression it points the way to better new towns and better suburbs. I wish I'd visited earlier.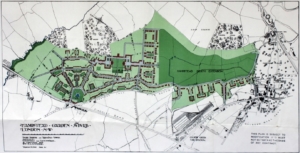 An early plan of Hampstead Garden Suburb
The Garden Suburb was founded by Henrietta Barnett. She was eager to build a community for the poor and well-to-do alike, in attractive green surroundings on generous plots of land among open spaces and allotment gardens. It was Barnett who believed the land should be planned as a whole, appointing Raymond Unwin as masterplanner.
The edge of the Garden Suburb is only a few minutes' walk from Golders Green Station, though it's a good 20 minute walk to the "heart" of the development, Central Square, designed by Sir Edwin Lutyens. The square itself doesn't fulfil the traditional role of a town square, however, as it has no commercial uses. Those, limited as they are, are found west in a dedicated group of buildings along Finchley Road.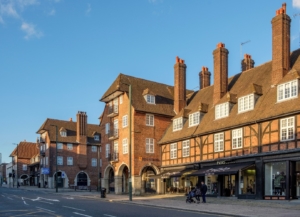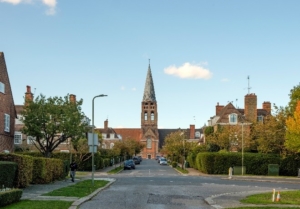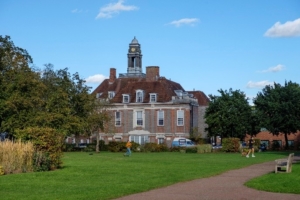 Hampstead Garden Suburb encompasses many delightful examples of Arts & Crafts architecture. Homes of brick, render and tiles, with large dormers, deep eaves and whimsical ornament are common, with equally good simpler homes of fine proportions abundant, too. The odd neo-Georgian home has its place, too, especially around Central Square. Homes are clearly well constructed and still look in excellent condition after a century or more. That's a lesson for developers today: build well and build beautifully and you'll create places people want to cherish and nurture.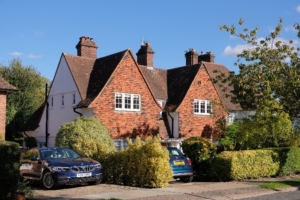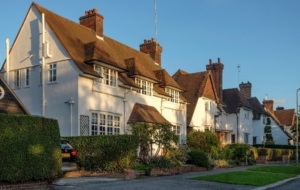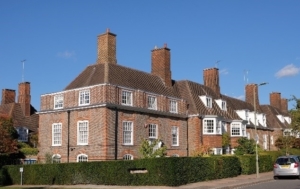 What really sets it apart, however, is how well various house types mix together; streets of large detached homes interspersed with semi-detached homes and terraces grouped around greens and garden squares. There are even a few small apartment buildings. The lack of house types in new developments is particularly egregious but in the Garden Suburb it not only makes for more interesting streets, but a more socially and economically diverse community.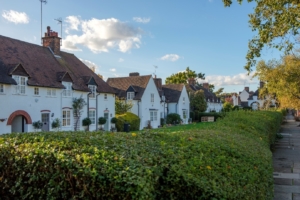 There are no dull, repetitive streets. The abundant greenery has further softened contrasts between the various styles, leading to streets which feel holistic and organic.
Walking the streets is pleasant. They're green, bordered by hedges and trees, benches seemingly on every street corner. One is never more than a couple of street blocks from a park. Even the narrow streets allow for on-street parking, some on both sides, and streets allow for two-way movement though they're too narrow for both cars to pass at higher speeds (not a bad thing).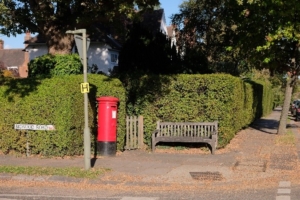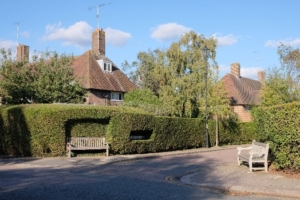 A really nice precedent for new developments: benches on nearly every street corner
There are many garden squares large and small spread throughout the Garden Suburb, breaking up blocks and offering a variety of housing types.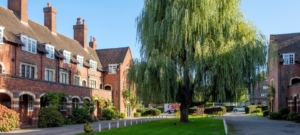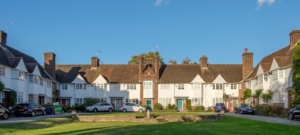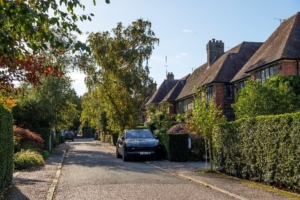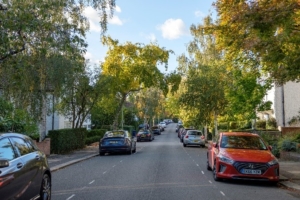 Streets are exceptionally green in Hampstead Garden Suburb. Some are narrow lanes, others wider with on-street parking. Border hedges are a hallmark throughout.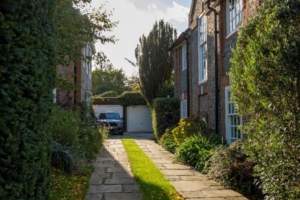 Compared to driveways in new housing developments, driveways in Hampstead Garden Suburb are attractive, permeable, have space for border planting and garages are often tucked away from view.
Hampstead Garden Suburb isn't perfect but we'd be lucky if our modern housing developments were even half as well designed. Excellent principles which have been upheld for over a century mean it's just as pleasant now as ever.
If we wished, we could make somewhere even better, more walkable with better access to public transport, streets not quite so wide, pavements wider, with better cycling provision and a true heart to the community ringed by shops and cafes. There's no reason modern housebuilders couldn't to this if they had the ambition to create beautiful places and invest both in the streetscape and in the design of homes. Will planners, traffic engineers and housebuilders be up to the task and will changes to national planning policy and the rollout of good design codes come quickly enough? We need to get back to building places, not just "housing." It would be rather nice indeed if a new-build estate could once again be a beautiful, aspirational place to buy or rent a home.